Hissy Fit Dip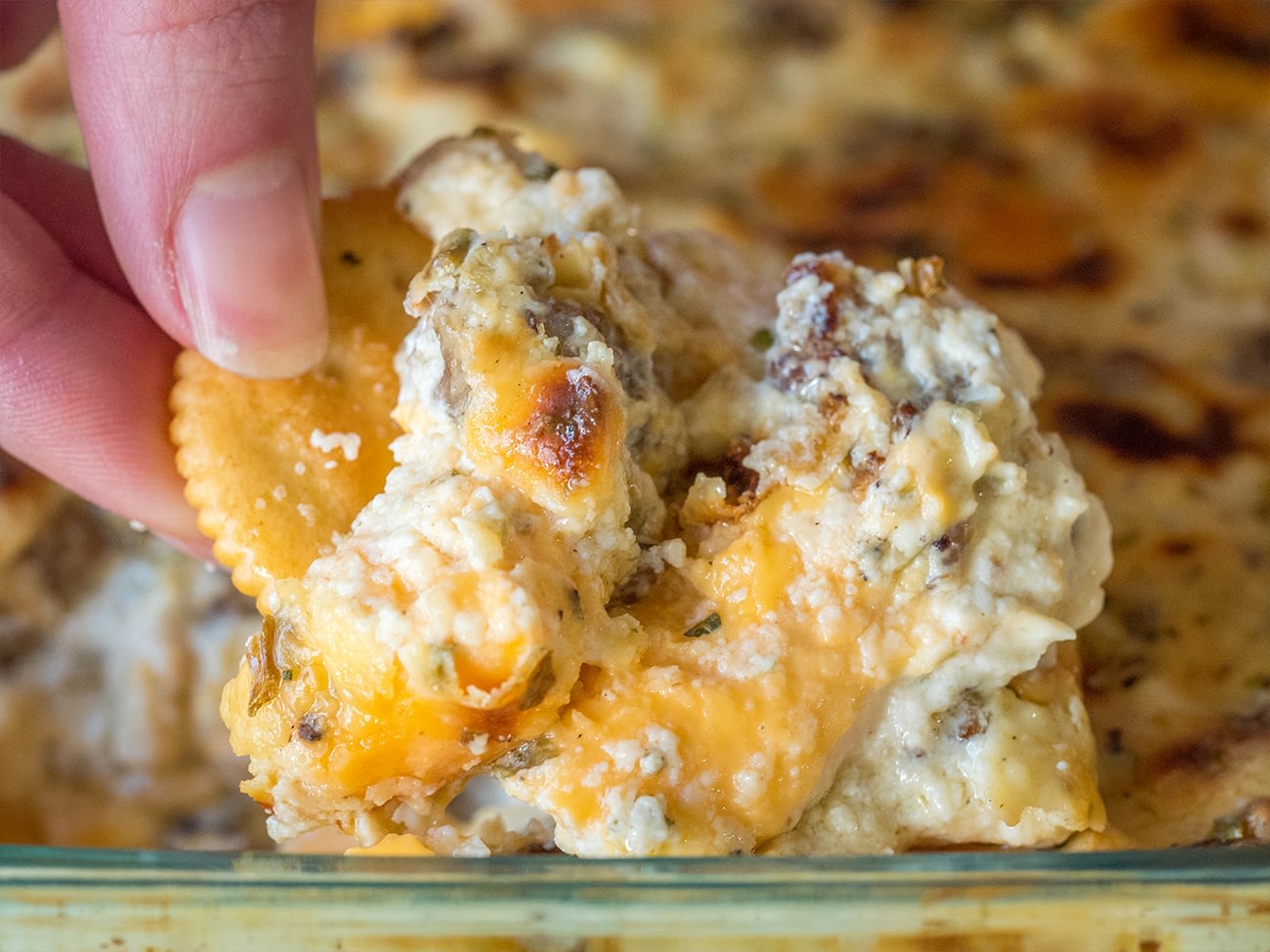 Jump to recipe
Total Time
1 hour, 29 minutes
Ingredients
1 pound ground sausage, browned and drained
1 (16 oz.) container sour cream
1 (8 oz.) package cream cheese, softened
1 (8 oz.) package velveeta cheese, cubed
4 oz. Monterrey jack cheese, grated
2 tablespoons fresh chives, minced, optional
1/2 tablespoon Worcestershire sauce
1 teaspoon dried parsley
1 teaspoon onion powder
1/2 teaspoon garlic powder
1/2 teaspoon dried sage
crackers, garnish
Instructions
Preheat oven to 350º F and lightly grease a square baking dish or skillet with non-stick spray.
In a large bowl, combine sour cream and softened cream cheese in a large bowl, and stir in Worcestershire sauce, parsley, onion powder, garlic powder and sage until incorporated.
Fold in sausage, velveeta, jack cheese and chives until mixed in thoroughly, then transfer mixture to baking dish.
Place in oven and bake for 50-60 minutes, or until molten, bubbly and golden brown.
Remove from oven and serve hot with chips or sliced baguette.
Nutrition Facts
Hissy Fit Dip
Serves: 12 servings
Amount Per Serving:
Calories

360.08 kcal

% Daily Value*
Total Fat

32.56 g

50.1%
Saturated Fat

16.34 g

81.7%
Trans Fat

0.26 g

Cholesterol

94.59 mg

31.5%
Sodium

552.25 mg

23%
Total Carbohydrate

2.98 g

1%
Dietary Fiber

0.08 g

0.3%
Sugars

2.25 g

Protein

14.64 g
Vitamin A

23.95 %

Vitamin C

0.93 %

Calcium

26.42 %

Iron

3.88 %
* Percent Daily Values are based on a 2,000 calorie diet. Your daily values may be higher or lower depending on your calorie needs.
---