Bang Bang Shrimp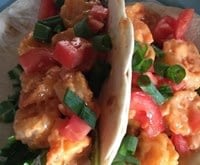 Jump to recipe
Ingredients
1/2 cup mayonnaise
1/4 cup Thai-style sweet chili sauce
3 dashes Sriracha hot chili sauce, or to taste
1/2 cup cornstarch, or as needed
1 pound medium shrimp, peeled and deveined
oil for frying
8 lettuce leaves
1 bunch green onion, chopped, or to taste
Instructions
Whisk mayonnaise, sweet chili sauce, and Sriracha hot sauce together in a bowl.
Place cornstarch in a shallow bowl. Gently press shrimps into cornstarch to coat; shake off any excess.
Heat oil in a deep-fryer or large saucepan to 375 degrees F (190 degrees C).
Working in batches, cook the shrimp until they are lightly browned on the outside and the meat is no longer transparent in the center, about 3 to 5 minutes. Transfer to paper towels to drain. Put cooked shrimp in a bowl and pour chile sauce mixture over the shrimp. Toss gently to coat.
Line a serving bowl with lettuce leaves. Pour shrimp into bowl and top with green onion.
Nutrition Facts
Bang Bang Shrimp
Serves: 4 servings
Amount Per Serving:
Calories

653.22 kcal

% Daily Value*
Total Fat

55.62 g

85.6%
Saturated Fat

6.0 g

30%
Trans Fat

0.15 g

Cholesterol

154.14 mg

51.4%
Sodium

1054.84 mg

44%
Total Carbohydrate

21.32 g

7.1%
Dietary Fiber

2.0 g

8%
Sugars

2.56 g

Protein

16.56 g
Vitamin A

10.87 %

Vitamin C

9.71 %

Calcium

8.88 %

Iron

5.52 %
* Percent Daily Values are based on a 2,000 calorie diet. Your daily values may be higher or lower depending on your calorie needs.
---