Lasagna Soup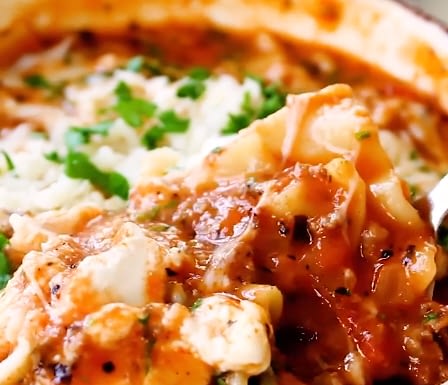 Jump to recipe
Ingredients
1 pound ground beef
1 pound mild Italian sausage
1 14 ounce can diced tomatoes
2 14 ounce cans tomato sauce
1 6 ounce can tomato paste
2 c whole cream
16 ounce fresh mushrooms
1 28 ounce can crushed tomatoes
1 large yellow onion (diced)
6-7 cloves garlic (minced)
1/4 t red pepper flakes
4 c chicken broth
4 c beef broth
2 T balsamic vinegar
1 T sugar
2 T dried basil
2 t dried parsley
2 t dried oregano
2 t salt
1/2 t black pepper
2 whole bay leaves
16-oz box lasagna noodles
ricotta cheese
fresh mozzarella cheese
parmesan cheese
fresh basil
Instructions
Heat large soup pot over medium high heat. Add beef, sausage, and onion and cook, stirring occasionally until beef and sausage are browned. Add garlic and red pepper flakes and saute for 30 seconds. Drain off excess fat.
Add tomato products, 6 cups of the broth, vinegar, sugar, spices, and lasagna noodles. Bring to a boil then reduce to a simmer until lasagna noodles are tender. Stir occasionally (approximately 20 to 30 minutes).
Discard the bay leaves and stir in heavy cream and 2-4 cups of the broth to reach desired consistency.
Garnish individual servings with desired amounts of fresh basil and the various cheeses.
Notes
You can substitute one large can of mushroom stems and pieces.
You can also substitute the lasagna noodles with a smaller shell if desired.
If you want the thickness whole cream brings, but don't want the whole cream, mix some cornstarch in with the last bit of broth you add to create the thickness.

---