Pollo Rosa Maria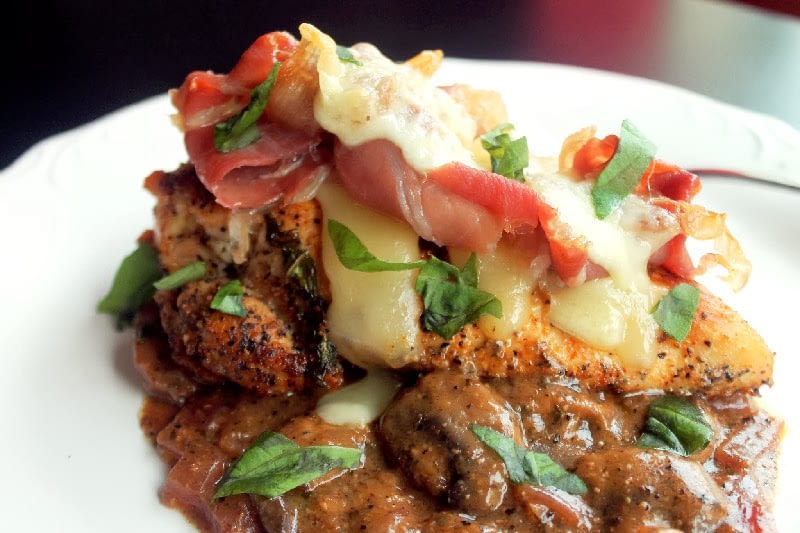 Jump to recipe
Ingredients
CHICKEN
4 chicken breasts, split
4 slices prosciutto ham
1/2 cup Fontina cheese
LEMON BUTTER TOPPING
1/2 cup clarified butter
3 cloves garlic
1/2 small yellow onion, diced
1/4 cup white wine
4 tablespoons unsalted butter
1/2 teaspoon white pepper
1/2 teaspoon salt
8 ounces sliced mushrooms
1/2 cup fresh sweet basil, chopped
juice of one lemon
Instructions
Chicken
Open chicken breasts and place butterfly-style on grill over white-hot coals of live oak and pecan wood.
Grill 3-5 minutes per side or until cooked through. Remove from grill.
When chicken is cool enough to handle, hold breast halves together and stuff each breast with one slice of prosciutto and 1/8 cup Fontina cheese.
Secure with wooden picks and set aside in a warm place.
Lemon Butter and Topping
In a large sauté pan over medium heat, combine clarified butter, garlic, and onion and sauté until tender.
Deglaze pan with white wine.
Add unsalted butter, salt, and pepper.
Add mushrooms to butter mixture and sauté 1 to 2 minutes or until cooked.
Add basil and lemon juice and stir to combine.
Place chicken on a serving platter and top with mushrooms in lemon-basil butter and serve.
Nutrition Facts
Pollo Rosa Maria
Serves: 4 servings
Amount Per Serving:

1 breast

Calories

756.17 kcal

% Daily Value*
Total Fat

59.77 g

92%
Saturated Fat

31.42 g

157.1%
Trans Fat

0.65 g

Cholesterol

237.13 mg

79%
Sodium

803.51 mg

33.5%
Total Carbohydrate

5.74 g

1.9%
Dietary Fiber

1.3 g

5.2%
Sugars

2.29 g

Protein

47.15 g
Vitamin A

45.03 %

Vitamin C

12.03 %

Calcium

13.49 %

Iron

11.67 %
* Percent Daily Values are based on a 2,000 calorie diet. Your daily values may be higher or lower depending on your calorie needs.
---