Coconut Lime Chicken Soup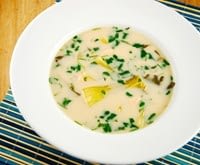 Jump to recipe
Cuisine
Thai
Category
Soups
Ingredients
2 15 oz can coconut milk
1 large boneless chicken breast
2 cloves garlic, minced
2 tbsp fresh ginger, grated
1 small onion, halved and thinly sliced
1 head of bok choy, chopped
3 small pieces (about 3-5 inches long) of lemongrass stalks
5 cups chicken broth
2 serrano peppers, diced
2 tsp sugar
1/3 cup fresh cilantro, chopped
3 tbsp fish sauce
Juice from 4 limes
Instructions
Spray a large pot or dutch oven with an olive oil mister, and place over medium high heat.
Using the flat side of a knife, carefully smash the lemongrass stalks a bit to release some of the flavor. Add the onion, garlic, ginger, lemongrass, white parts of bok choy, and serrano peppers, and 1/4 cup of the chicken broth into the heated pot. Cook until onions begin to soften, about 5 minutes.
Stir in the chicken and pour in remaining chicken broth. Bring to a boil, and then reduce heat to medium, cover and let simmer until chicken is cooked through, about 8-10 minutes.
Remove chicken from soup and transfer a to plate, Using two forks, shred the chicken and then return it to the pot. Remove lemongrass stalks before putting the chicken back in.
Now stir in the lime juice, sugar, bok choy leaves, fish sauce, coconut milk, and cilantro. Cook for another 4-5 minutes until the bok choy is tender.
Nutrition Facts
Coconut Lime Chicken Soup
Serves: 12
Amount Per Serving:

1 1/2 cups

Calories

225.5 kcal

% Daily Value*
Total Fat

18.1 g

27.8%
Saturated Fat

14.23 g

71.2%
Trans Fat

0.02 g

Cholesterol

14.6 mg

4.9%
Sodium

519.87 mg

21.7%
Total Carbohydrate

10.42 g

3.5%
Dietary Fiber

1.03 g

4.1%
Sugars

3.4 g

Protein

8.49 g
Vitamin A

1.22 %

Vitamin C

15.32 %

Calcium

4.48 %

Iron

16.59 %
* Percent Daily Values are based on a 2,000 calorie diet. Your daily values may be higher or lower depending on your calorie needs.
---