Balsamic Glazed Caprese Chicken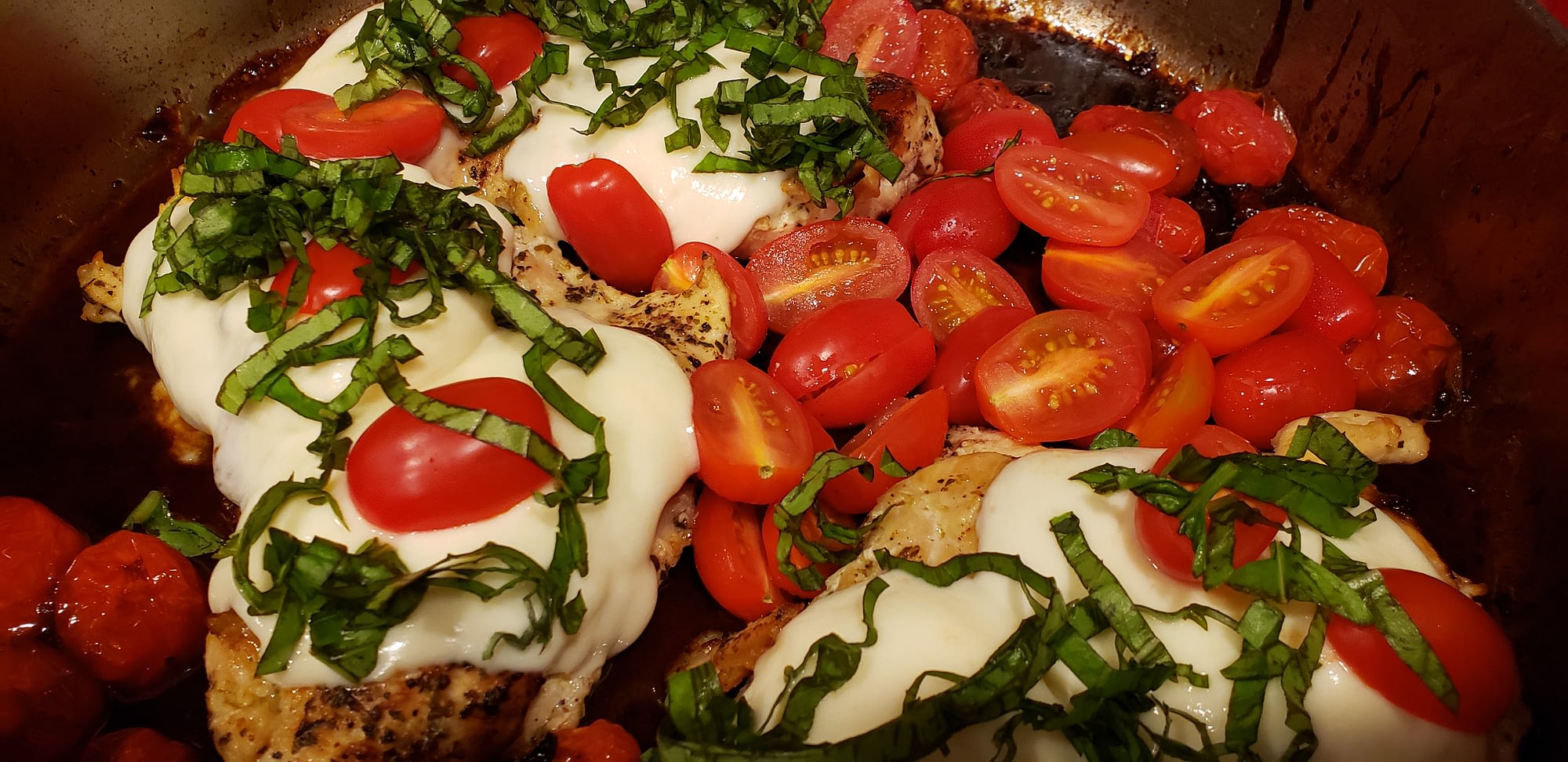 Jump to recipe
Ingredients
4 boneless, skinless chicken breasts
1 t dried oregano
1 t dried basil
1 t salt
cracked black pepper
1 T olive oil
2 T minced garlic
1/3 c balsamic vinegar
2 1/2 T brown sugar, packed
1 1/2 c grape or cherry tomatoes, halved
8 oz fresh mozzarella cheese
1/4 c fresh basil leaves, chiffonade
Balsamic Glaze
1/3 c balsamic vinegar
2 T brown sugar, packed
Instructions
Preheat oven to 410.
Season each breast with the oregano, basil, salt, and pepper.
Heat the oil in a large oven-proof pan or skillet over medium-high heat. Sear the chicken on both sides until golden brown, about 4 minutes each side. Transfer chicken to a plate; drain most of the excess oil, leaving about a teaspoon worth.
Return the skillet back to the stove; fry garlic until fragrant (about one minute). Add the vinegar and brown sugar; stirring to combine while heating through. Bring to a simmer, while stirring occasionally, until glaze has thickened (about 5-6 minutes).
Return the chicken to the pan, turning in the glaze to evenly coat. Add 1 cup of the tomatoes, whole, around the chicken and place the chicken into the oven. Bake until the chicken is completely cooked through (about 30 minutes). Top each chicken with a slice of mozzarella cheese; return back to the oven for a further 5 minutes or until the cheese has melted.
Slice the remaining 1/2 c of tomatoes in half; place them on top of the cheese; pour over some of the balsamic sauce from the pan and garnish with basil. Serve immediately.
If you want to serve with extra balsamic glaze (as pictured) make your glaze while the chicken is in the oven. Combine the vinegar and sugar in a small pot and bring to a boil. Reduce heat, allowing to simmer while stirring occasionally, until the glaze is thickened and reduced by half (about 5-6 minutes). Drizzle over the chicken when ready to server.
Nutrition Facts
Balsamic Glazed Caprese Chicken
Serves: 4 servings
Amount Per Serving:

1 piece

Calories

592.4 kcal

% Daily Value*
Total Fat

22.43 g

34.5%
Saturated Fat

10.56 g

52.8%
Trans Fat

0.02 g

Cholesterol

249.02 mg

83%
Sodium

1041.33 mg

43.4%
Total Carbohydrate

17.89 g

6%
Dietary Fiber

1.35 g

5.4%
Sugars

13.71 g

Protein

74.58 g
Vitamin A

18.1 %

Vitamin C

10.78 %

Calcium

38.13 %

Iron

11.67 %
* Percent Daily Values are based on a 2,000 calorie diet. Your daily values may be higher or lower depending on your calorie needs.
---