Low Carb Hatch Chile Rellenos Jose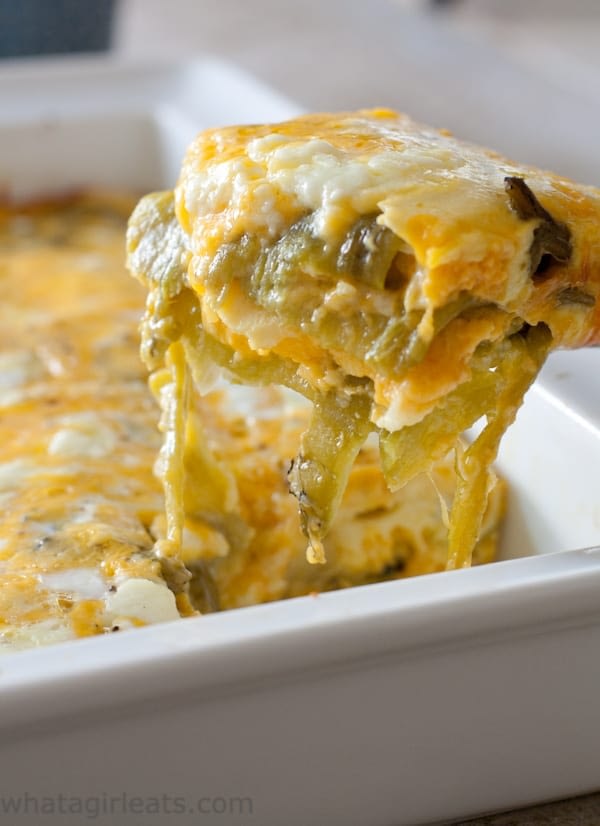 Jump to recipe
Total Time
1 hour, 15 minutes
Ingredients
1 1/2 pounds chiles, Hatch, poblanos, pasilla, or Anaheim chiles, charred, skins and seeds removed.
6 ounces queso fresco or cotija cheese, you can also substitute ricotta cheese for a similar texture and flavor.
12 ounces sharp cheddar cheese, grated
4 large eggs, beaten
1 teaspoon kosher salt
1/2 teaspoon black pepper
2 Tablespoons olive oil
Instructions
Roast chiles under the broiler or on a charcoal grill, turning often, until the skin is blackened. Place them in a paper bag and close tightly. When chiles are cool enough to handle, pull away and discard the seed and inside veins.
Preheat oven to 425 degrees F.
Brush olive oil on the bottom of a 10.5″ x 7.5″ baking dish. Line with chiles.
Cover chiles with about 2 ounces of crumbled cotija and 4 ounces of shredded cheddar. Repeat, ending with cheeses on top.
In a bowl, beat 4 eggs, salt and pepper. Pour mixture over chiles and cheese. Cover with foil. Bake at 425 degrees F. for 40 minutes, or until cheese is hot and bubbly. Remove from oven and let rest 5-10 minutes to set.
Casserole can be frozen. Cut into squares and wrap well.
Nutrition Facts
Low Carb Hatch Chile Rellenos Jose
Serves: 8 servings
Amount Per Serving:

8

Calories

291.84 kcal

% Daily Value*
Total Fat

23.07 g

35.5%
Saturated Fat

11.28 g

56.4%
Trans Fat

0.51 g

Cholesterol

147.22 mg

49.1%
Sodium

508.47 mg

21.2%
Total Carbohydrate

4.69 g

1.6%
Dietary Fiber

1.41 g

5.6%
Sugars

1.21 g

Protein

17.31 g
Vitamin A

48.63 %

Vitamin C

28.35 %

Calcium

38.93 %

Iron

11.97 %
* Percent Daily Values are based on a 2,000 calorie diet. Your daily values may be higher or lower depending on your calorie needs.
---